Alkaline Water Available
Balance the Acidity in Your Bloodstream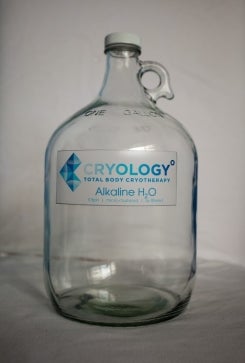 Water is the main component of the human body. In fact, the body is composed of between 55 and 78 percent water, depending on body size. Regular water consumption has numerous health benefits, which is a huge reason why we should pay more attention to where our water is coming from. At Cryology, we are pleased to offer our clients alkaline water, which is known to have antioxidant properties. Filtered and ionized, alkaline water has a less acidic pH level than tap water and even most bottled waters.In addition to being alkaline, our water is 5x filtered to remove impurities and contaminents. It is also microclustered for better absorption and maximum hydration.
It is believed to help with gut health and lower glycation levels. This can be great for those with the risk of Alzheimer's or diabetes because it can lower the AGEs associated with those illnesses. If you are physically active, alkaline water could very well offer you plenty of benefits like improved performance. Those with a kidney condition or taking medication that alters kidney function should check with their physician before using alkaline water as a health supplement.
Offered only in Babylon location
What Sets Us Apart?
First Cryotherapy Facility on Long Island
Most Affordable Prices in the New York area
Open 7 Days/Week, Walk-ins Welcome!
Family Owned and Operated