Infrared Sauna
Using Infrared Waves to Create Heat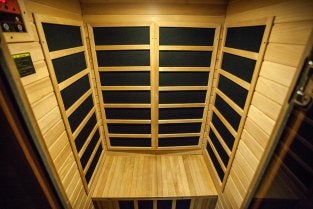 Unlike traditional saunas which operate at extremely harsh temperatures, infrared is a gentle, soothing, and therapeutic heat. And yet, is a more efficient experience. Our infrared saunas can help lower blood pressure and increase circulation in the body. The infrared heat penetrates tissues, joints, and muscles to relieve even chronic pain. Of course, the very idea of burning calories while simply relaxing in our sauna is also a bonus!
An Infrared Sauna differs from a traditional sauna because:
It uses energy to heat your body directly
One session can help you burn up to 600 calories
Eliminate about 7 times more toxins
Please arrive on time or early! We try to accommodate as many of our clients as possible, so we book the rooms back to back with enough time in between to clean and get things ready for the next client. Because of this, we ask that you arrive 10 minutes prior to your appointment start time and make sure you vacate the room when your booked time is up. If you have never done an Infrared Sauna session with us here at Cryology, please call to book your appointment & visit our FAQ page to answer all questions and concerns. Price is per person.
What Sets Us Apart?
First Cryotherapy Facility on Long Island
Most Affordable Prices in the New York area
Open 7 Days/Week, Walk-ins Welcome!
Family Owned and Operated