Red Light Therapy
A light therapy device delivers red & near infrared wavelengths directly to your body. These photons of natural, therapeutic light produce a chemical reaction in the mitochondria of your cells that boosts energy production and regeneration. Thousands of peer-reviewed clinical trials and studies on red light therapy have been conducted over the last 3 decades and published in major scientific journals. The evidence is overwhelmingly in favor of its effectiveness & safety, and the FDA has approved light therapy for the treatment of joint pain, reduction of wrinkles, and many other conditions.
Here's an overview of some of the major, clinically-proven health benefits of red light therapy:
• Skin, Collagen, and Anti-Aging
• Training and Muscle Recovery
• Inflammation and Joint Pain
• Melatonin and Sleep.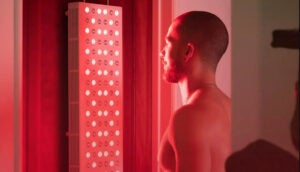 What Sets Us Apart?
First Cryotherapy Facility on Long Island
Most Affordable Prices in the New York area
Open 7 Days/Week, Walk-ins Welcome!
Family Owned and Operated