Local Cryotherapy
Offering Recovery & Comfort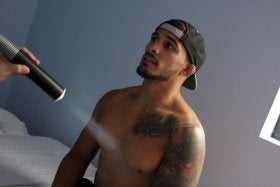 We know that the cryosaunas are not for everyone. That is why at Cryology, we also offer local cryotherapy as a sort of spot treatment for those uncomfortable with the whole body therapy. Many visitors to our New York cryotherapy clinic also use it in conjunction with whole body cryotherapy to treat problem areas from the "outside-in."
Local cryotherapy is able to:
Offer the same benefits of traditional icing
Use a stream of cold nitrogen vapor on the affected area
Last anywhere from five to ten minutes depending on the area
For those that usually turn to ice as their method of healing and recovery, local cryotherapy is a fantastic alternative that can offer you more without the risk of damaging your muscle. Local cryotherapy is also great for the beginner who is not sure if cryotherapy is for them.
What Sets Us Apart?
First Cryotherapy Facility on Long Island
Most Affordable Prices in the New York area
Open 7 Days/Week, Walk-ins Welcome!
Family Owned and Operated